Kumeyaay Nation: Stories of Change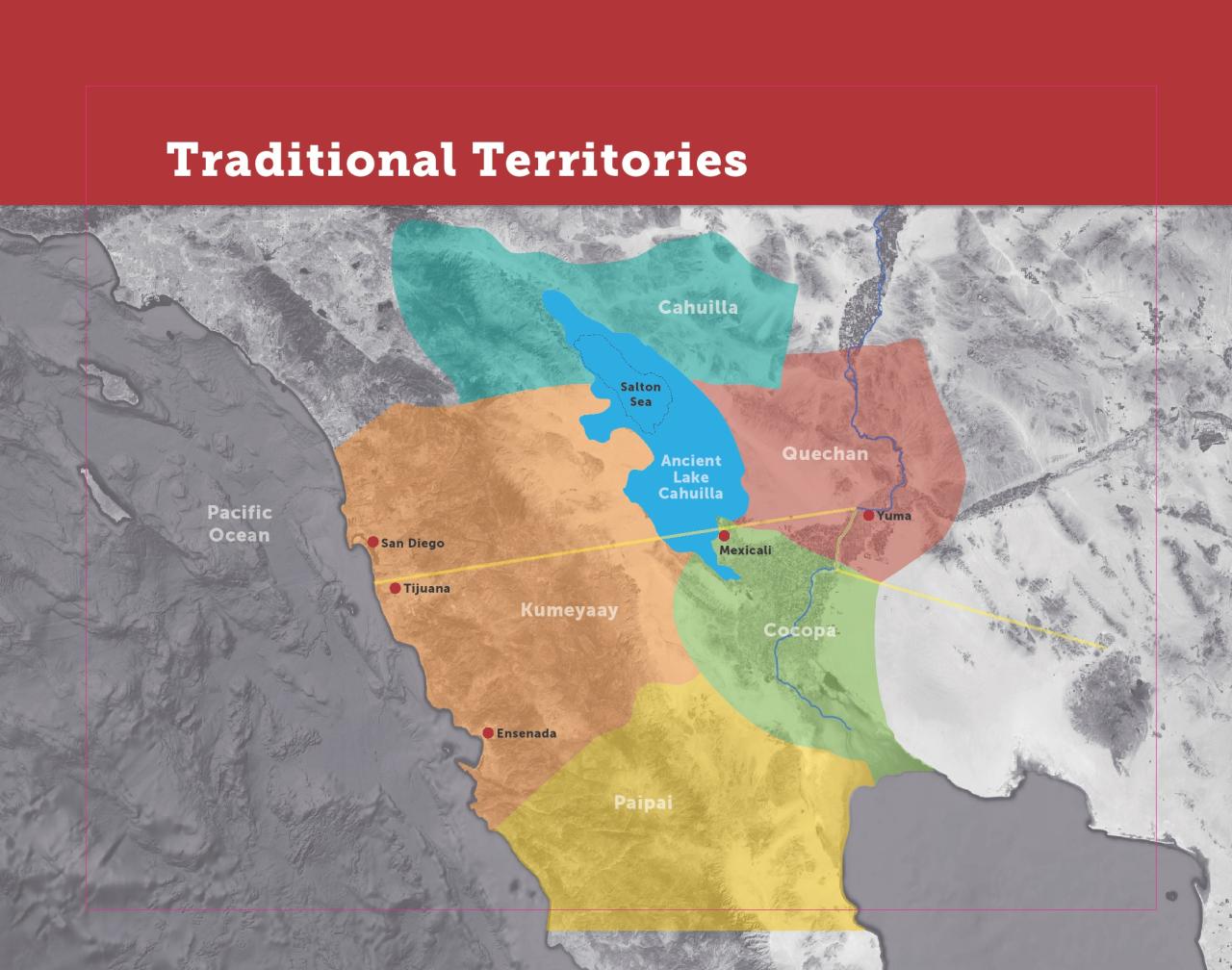 LAND ACKNOWLEDGEMENT
We, the Imperial Valley Desert Museum, recognize our place on the traditional lands of the Kumeyaay who have been here, as they say, 'since the beginning', with a vibrant and rich history dating back over 10,000 years. The lands of Imperial and San Diego County include the traditional lands of many Indigenous groups composed of Quechan, Cahuilla, CoCoPah, Pai Pai, and Kumeyaay.
Each of these groups are still present and active today.
The Kumeyaay and their ancestors have lived, worked, and played in the diverse landscape of Imperial County for over 9,000 years.
The Kumeyaay Nation has a long tradition of change. Traditionally the Kumeyaay have inhabited the most diverse landscape of any culture in the Americas. Their traditional territory ranges from the beaches of San Diego over the lush Laguna Mountains, across the arid Colorado Desert, to the shores of Lake Cahuilla and down into Baja California, Mexico.
Traditional Kumeyaay territory stretches from San Diego's coast to the desert. Frank Salazar, a member of the Campo Band of Kumeyaay Indians said Kumeyaay territory had the most diverse geography of any other tribe in the United States.
In 2014 the documentary First People-Kumeyaay was produced by Industrial Strength Television, Inc. Drawn from over 70 hours of oral interviews with culture bearers from the Kumeyaay Nation and focused on the importance of sharing and maintaining cultural heritage and passing it on to future generations, the documentary quickly won numerous awards, including the 2014 Borrego Springs Film Festival "People's Choice" award for best documentary, and has been nominated in 2015 for a National Academy of Television Arts and Sciences Pacific Southwest region Emmy award in the documentary category.
The Imperial Valley Desert Museum received the rights and access to the 70 hours of raw interview footage filmed for this documentary, and is working to include as much of it as possible in a new permanent exhibit. These interviews with Kumeyaay culture bearers and tribal members would otherwise never be viewed by the public. Through the award of a Cal Humanities Community Stories grant the Imperial Valley Desert Museum is able to present many of these interviews, reaching new audiences and allowing those audiences to reflect on how they interact with a landscape that the Kumeyaay have traditionally inhabited for over 9,000 years.
Kumeyaay Nation: Stories of Change is a project that combines a successful video outlet for cultural diffusion with the Museum's successful exhibit development and cross cultural community outreach to explore both Kumeyaay traditions and Imperial County's diverse desert community. Audiences are able to reflect and explore the idea of a shared identity in a changing landscape.
Native Voices
First People - Kumeyaay
---
First aired on KPBS May 20, 2014
"The Kumeyaay Nation at one time lived throughout this region and is currently comprised of 13 reservations scattered across San Diego County and four in northern Baja California. The Kumeyaay people who live on and off these reservations share a heritage that goes back, in their words, "to the beginning of time". This Emmy nominated film explores some aspects of this resilient culture.
2014 Anza Borrego Film Festival Winner: Best Documentary BSFF 2016

2015 Emmy Nominated National Academy of Television Arts and Sciences,Natas PSW, Pacific Southwest Division, Documentary Category
Informational Links
There are a growing number of websites with information on the history and culture of the Kumeyaay people. Below are links which may be helpful to both teachers and researchers. Additional links and updates will be added as possible.